INFINITE POSSIBILITIES in the
CULTIVATED MILLING SKILLS.
Hokkaido is a major production area of buckwheat which accounts for about 40% of buckwheat production in Japan. We, Hokkaido Yamaka Buckwheat Flour Milling Inc. hope to offer the genuine taste of the high quality buckwheat to our customers from Hokkaido. Always have been and always will be part of your happiness. We create a good future through buckwheat products.
ABOUT US

---
To offer the genuine taste of Hokkaido buckwheat is our mission, and we have milled buckwheat for many years.
A rich and refreshing flavor from a sip of silky and savory buckwheat, this impressive encountering with good buckwheat is a result of solid handiwork by a lot of people involved in from cultivation to processing.
APPROACHES

---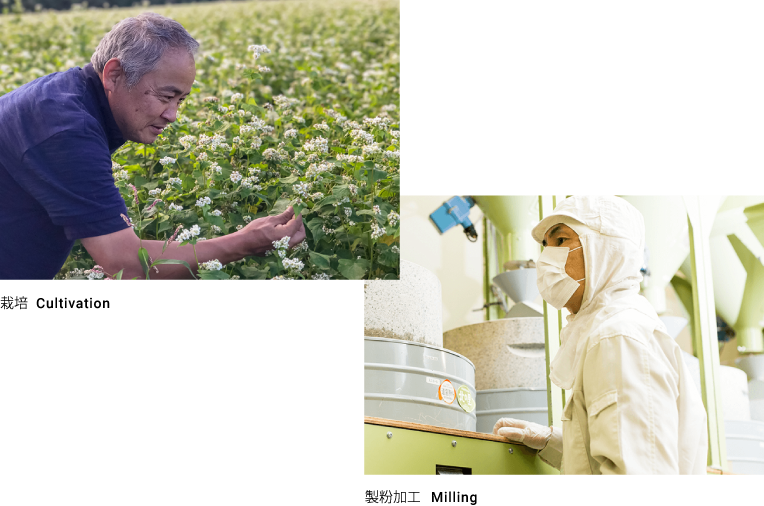 All of our domestic ingredients are strictly selected Hokkaido-made products.
We choose and purchase ingredients from reliable farms based on our annual contract arrangement. These direct agreements allow us to give advice to and request farms to improve the buckwheat cultivation method in details.
Buckwheat grains are carefully and thoroughly milled in super slow-speed stone mortars in a controlled low-temperature room, and we succeeded in producing high quality buckwheat flour as a result.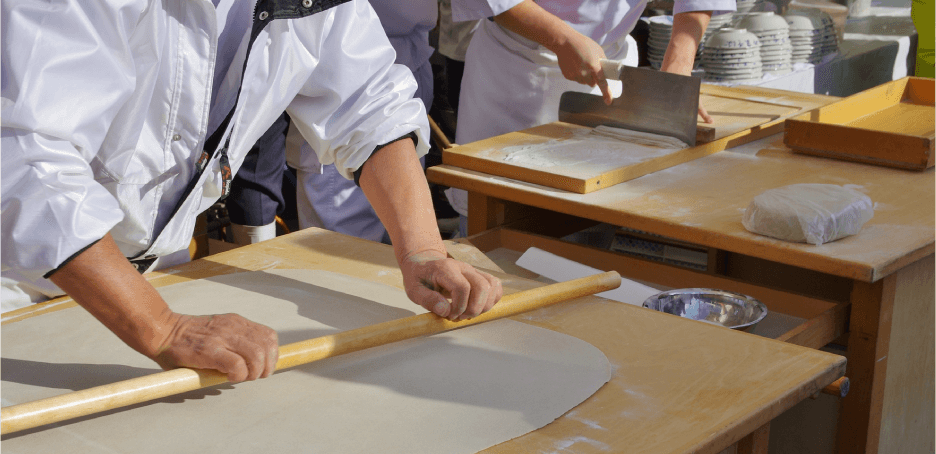 PRODUCTS

---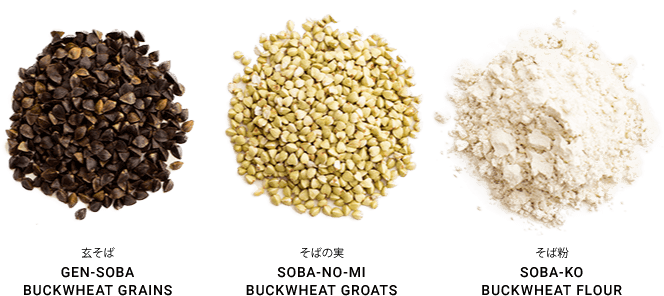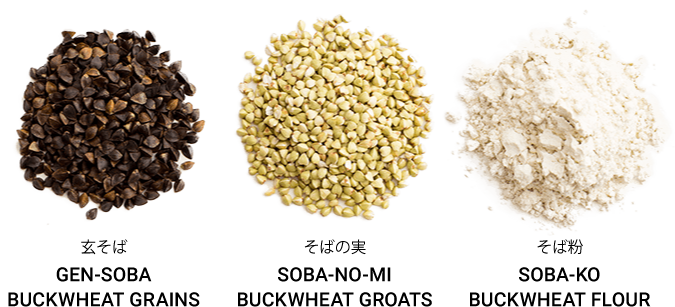 Haruka no Sato
(Stone-mill Buckwheat Flour) 10kg

---

Shibetsu district faces the Pacific Ocean and there is more intense daily temperature difference in Hokkaido.
With black soil which drains well, Nakashibetsu town in Hokkaido is well suited for buckwheat.
Using the organic fertilizer often used for orchards, buckwheat is grown under maximally controlled soil balance and photosynthesis conditions.
This buckwheat produced by Uehara Farm Co., Ltd. with a good color and flavor is milled by super slow-speed stone mortars into buckwheat flour.

Uehara Farm Co., Ltd. Achieved the Minister for Agriculture, Forestry and Fisheries Award in all Japan buckwheat producing project in 2017.

Stone-mill Organic Buckwheat Flour 10kg

---

Ishikari city faces the Japan Sea, and cultivation in spring spreads the smell of new soil around this area.
Using organic fertilizers made with rice bran, rapeseed lees and herring powder, and also fermented chicken droppings, we have started organic farming over 30 years ago with no-cultivation method. Our original milling method gives it genuine buckwheat savor.

We also have Stone-mill organic Buckwheat Flour (Whole Grain) 5kg and Organic Buckwheat Groats 5kg.

Tartary Buckwheat Roasted Tea 500g

---

Tartary buckwheat richly contains vegetable protein, vitamins and fiber, including essential amino acid.
Especially rutin, a type of Polyphenol, has various effects on health such as improving memory, regulating bowel system, making skin better, and preventing Lifestyle-related diseases.
As this is caffeine-free, you can drink before bed time or when you are pregnant.

Frozen Japanese Soba Noodles 180g

---

This uses the buckwheat flour milled by super slow-speed stone mortars.
Savor, color, taste of buckwheat, everything is produced excellently.
Mixing with Hokkaido-made flour creates a smooth texture.
COMPANY PROFILE

---
Company Name

Hokkaido Yamaka Buckwheat Flour Milling Inc.

Business Place

Office, Ishikari Factory, Ishikari Factory No.2

Address

771-3, Shinko Nishi 1 chome, Ishikari city, Hokkaido 061-3241 JAPAN

Telephone

(+81) 133-75-9811

Year Founded

27th of May, 1948

Capital Fund (in JPY)

30,000,000yen

Number of Employees

9

Officers

President Kazue Fujisawa

Products

Raw and processed mainly Spelt wheat and Buckwheat.

Production Capacity

Buckwheat 500t / Year

Certification

Organic certification

Domestic Export Partner

Tokyo Mutual Trading Co., Ltd.